Slap play on that baby and let me set a scene for you…
It's a cool warm, crisp muggy evening in Canton, OH. Hundreds of orange and blue No. 54 jerseys are filing through stadium entrances. The majority of those not donning Bear colors are dressed out in purple and black No. 52's, mumbling something about innocent until proven guilty.
These lucky humans are the pilgrims of the 2018-19 NFL season. Are they about to watch quality football? God no. They're settling in for what will ultimately warp itself into a high-end division-III football game by night's end.
Doesn't matter. Football's back.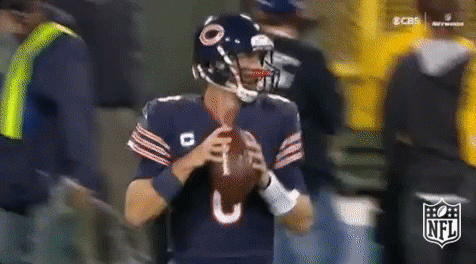 I know it's not Halloween yet, but I thought I'd give ya a little scare.
Tonight, we get Bears vs. Ravens in the annual Hall of Fame game. If I haven't already made it clear enough, I hope you're going into the night with low expectations. That, or you really like bad, uncoordinated football. The last time a single team scored more than 24 points in the Hall of Fame game was back in 2008 when the Redskins put up 30 on the Colts. Who could forget Colt Brennan throwing two touchdowns and Mike Hart leading all backs with 53 rushing yards. An instant classic.
I'm being harsh. Football's back. Let's embrace it.
With that said, I'm going to make up a few regular season awards, name them after former Bears and predict who might end up winning said fake award. Here we go:
Shea McClellin Salute To Service Award
(Definition: The SM Salute to Service award is given annually to the player who can best rush the quarterback and also maybe injure said QB's shoulder)
Deep in my plums there's a part of me that misses Shea McClellin. It's really deep, but it's there. The former first round pick did a lot of nothing as a Bear, but he's forever remembered for taking Aaron Rodgers out for two months with a shoulder injury. Since we here at The Great Chicago Rebuild don't condone injuring others, this award is simply given to the man who we think will best get to the quarterback.
Winner: Leonard Floyd
Let's be honest. If Leonard Floyd isn't the one winning this award at season's end, the Bears probably went 5-11. There's plenty of questions surrounding the pass rush, and Floyd represents one of them. Can he stay healthy and give the Bears even 14+ games? If he can, he'll almost certainly rack up double-digit sacks. The only hesitation I have in saying that is the lack of experience and depth around him. Akiem Hicks is going to do his thing, but can one of Kylie Fitts, Bilal Nichols, Aaron Lynch, etc. make a difference? That will ultimately decide whether Floyd can catapult himself into the upper-echelon of NFL pass rushers.
John Fox Memorial Award
(Definition: The JFM award is given annually to the player who successfully underperforms with great consistency)
There is honor in winning the John Fox Memorial Award, albeit not much. Coach Fox piled up a sterling .292 winning percentage over his three seasons with the Bears. During that time he showed just how unsatisfying it can be when an individual falls well-short of expectations. I find no joy in handing out this award, but it must be done.
Winner: Adam Shaheen
The second-year tight end wins this award more due to circumstances out of his control. Everyone is well aware that the Bears' offensive weaponry was re-stocked this offseason. Deep down, it feels like the biggest loser following those additions is Shaheen. Trey Burton is the hot pass-catching name and Dion Sims will continue carving out playing time due to his ability to block the edge which will relegate the Ashland-product to red zone duties. Those are red zone duties he'll be sharing with Allen Robinson, among others.
I hope I'm wrong, and the Bears can still have a successful 2018 season without Shaheen improving tremendously, but I sure would sleep better at night knowing a second-round pick was going to better use.
Keith Traylor Speed-Burner Award

(Definition: The Keith Traylor Speed-Burner of the Year award is given annually to the player who possesses and best uses tremendous straight-line speed)
Forever and ever, Keith Traylor will hold a special place in my heart. His rumbling interception/attempted handoff/return against the Jaguars back in 2002 is my earliest Bears memory and I would have it no other way.
Winner: Taylor Gabriel
I'm in love, I'm in love and I don't care who knows it. I was stoked about the possibility of Gabriel in a prominent offensive role from the day he signed with the Bears. Everyone is infatuated with Anthony Miller and Tarik Cohen, and don't get me wrong, they have every right to be. Give me Gabriel.
The period that excited me the most about Gabriel was in 2016 when the Falcons were without Julio Jones. As a pigeon-holed slot receiver, he stepped into a No. 1 WR role and played about as well as anybody could have expected. Here's one of the things he did:
My money is firmly on Gabriel to lead the Bears in catches of 30+ yards. Also, he's faster than Tarik, don't put my Twitter username after the @ sign.
Michael Joseph Glennon Offensive Excellence Award
(Definition: The Michael Joseph Glennon Offensive Excellence award is given annually to the MVP on the offensive side of the ball)
I'm proud to announce an award named after our lord and savior, Michael Joseph Glennon. This one will go to the player who played the biggest role in the offense's success.
Winner: Jordan Howard
Look at me throwing a curveball your way. Does anybody remember this guy, Jordan Howard? All the RPO, Mitch Trubisky, Matt Nagy, exotic West Coast offense talk has left No. 24 in the shadows, and I think he's going to remind us all just how relevant he is.
Does he fit the mold of a typical West Coast back? Certainly not, but I think his pass-catching woes are a tiny bit oversold and it sounds like it's something he's focused on a lot this offseason.
See, he can catch the pigskin.
Sort of a joke, but I really do expect him to be better in this area, simply because he knows he'll be tasked with catching more balls. I guess what makes Howard a candidate to wind up being offensive MVP is the different looks (what a concept) that this offense should be able to present. Sure, Trubisky is going to be given a lot of opportunities to throw the ball, but it's not like the Bears will abandon the run altogether just because Nagy is calling plays.
We've got a solid offensive line and if you want to look back at the 2017 Nagy offense, Kareem Hunt had his fair share of chunk gains on the ground. Jordan Howard is much more of a pure runner than Hunt and should be able to rack up yards with more consistency than the Toledo product did in his first season.
Chris Conte Defensive Excellence Award
(Definition: The Chris Conte Defensive Excellence award is given annually to the MVP on the defensive side of the ball)
Did you know Chris Conte is still a starting NFL safety? He plays for the Buccaneers, so it makes sense, but still. In honor of Chris, one of the most frustrating safeties in Bears history, we'll give this one to the MVP of the defense.
Winner: Kyle Fuller
In an effort to be fully transparent, this is more of a need than an actual "I think" prediction. Kyle Fuller must be one of the Bears' top-two defensive players, if not No. 1. Forget about the bag of money he secured this offseason, we need him to perform because if he doesn't, we have zero chance of competing in the NFC North. Aaron Rodgers, Kirk Cousins and Matthew Stafford are all ready to tear up the Bears' secondary that is not terrible by any means, but doesn't have a premier stopper. Fuller has to be the stopper.
Something that gives me hope is the fact that Fuller has actual competition to go up against in practice this year. Not that Kendall Wright wasn't striking fear into his eyes when they lined up in Lake Forest last year, but I think Allen Robinson, Anthony Miller and Taylor Gabriel should challenge him a tiny bit more.